Post-War Textiles Testing Machine Makes History
Textiles research and testing group Shirley Technologies Limited is marking its 100th anniversary by donating a machine invented in its Leeds laboratories in the 1940s to Manchester's Science and Industry Museum.
The group, which has laboratories in Manchester and Leeds, was formed by the merging of two research organisations: the world-renowned Shirley Institute and Wool Industries Research Association (WIRA), created to support the British textiles industry during the war years. Today, the company employs over 100 people and tests, audits and certifies textiles from around the world, ranging from Formula 1 racing suits and firefighters' uniforms to clothing and upholstery sold by high street retailers.
It was a very different story in the 1940s, when a Dr J.G. Martindale was working at WIRA and was tasked with devising a machine to test the wear properties of carbon-impregnated cloth, developed to protect from gas attack.
Stephen Donnelly from Shirley Technologies explains: "Dr Martindale came across a spinning machine with two motions at right angles, realised this was generating Lissajous figures – a mathematical term for looped figures created by two independent motions – and designed a wear tester around this concept. A machine was made in the workshop by the workshop head Stanley Dilworth, and this was the origin of the WIRA (Martindale) abrasion machine – a machine that is still made and widely used in the textiles industry today.
"So much of our company's 100-year history and heritage is here in the north of England. Two of our researchers won a Nobel prize for partition chromatography whilst working at WIRA in 1952, and that's just one of the countless stories and innovations that have come from our workshops and laboratories over the last 100 years.
"We are incredibly proud of them all, and to mark our centenary we wanted to try and make sure that key moments from that history are recorded and preserved. The apparatus we are donating to the Science and Industry Museum is an original machine manufactured by James H. Heal in 1976, which has been in use since then until the present day. At first it was used on our site in Leeds, testing conventional fabrics, and more recently at our Trafford Park laboratories, where it has been used to determine the effectiveness of personal protective equipment."
Katherine Belshaw, Senior Curator at the Science and Industry Museum says, "The Martindale abrasion tester is a fantastic addition to our historically important textile industry collection, which reaches from the Industrial Revolution to the present day. This abrasion tester represents an idea that changed the world. The Martindale test is internationally recognised as a measure of quality and an effective way to assess the wear resistance of textiles, from those we rely on to protect us from harm to those we choose to decorate our homes.
"The vast majority of clothing bought on the high street today will have been subject to an abrasion test to determine how quickly the fabric wears, how much mass it may lose and how the colour might change. This machine has played, and continues to play, a hugely significant part in the global textiles industry and we are very grateful to Shirley Technologies for the donation."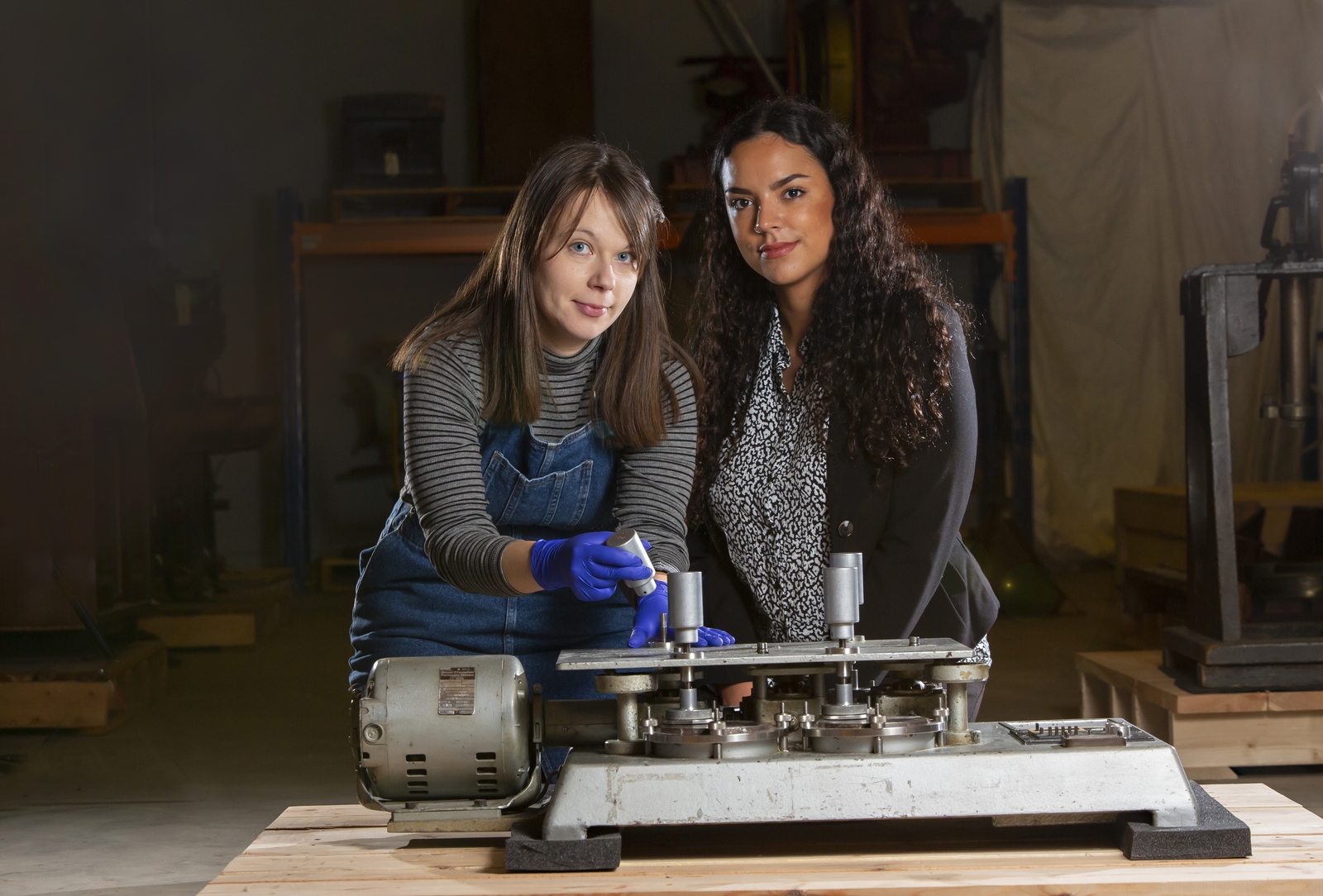 Image: Katherine Belshaw, Senior Curator at the Science and Industry Museum and Niketa Kessly, Marketing Officer at Shirley Technologies.